Pain relief. Plain and simple.
Acupuncture
Pain relief. Plain and simple.
WHAT CONDITIONS CAN ACUPUNCTURE TREAT?
Chronic pain in the muscles and joints

Nausea

Insomnia
Acupuncture is a 3,000-year-old healing technique of traditional Chinese medicine that improves the body's functions – physically, mentally, and emotionally – and promotes the natural self-healing process. The treatment involves stimulating specific points of the body with thin needles. Call Middletown Medical today to discuss if acupuncture is right for you.
Meet Richard Yonke, L.Ac., M.S.O.M.
Licensed Acupuncturist
Richard Yonke, L.Ac., M.S.O.M. is a licensed acupuncturist specializing in pain management and physical rehabilitation. His many years of experience in diagnosing, treating, and preventing illness include working alongside physiatrists and orthopedics, and earning his Master of Science in Health Science/Oriental Medicine.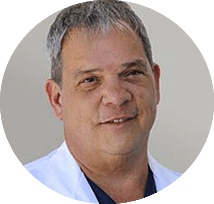 Request An Appointment
Make the first step towards relieving your pain.