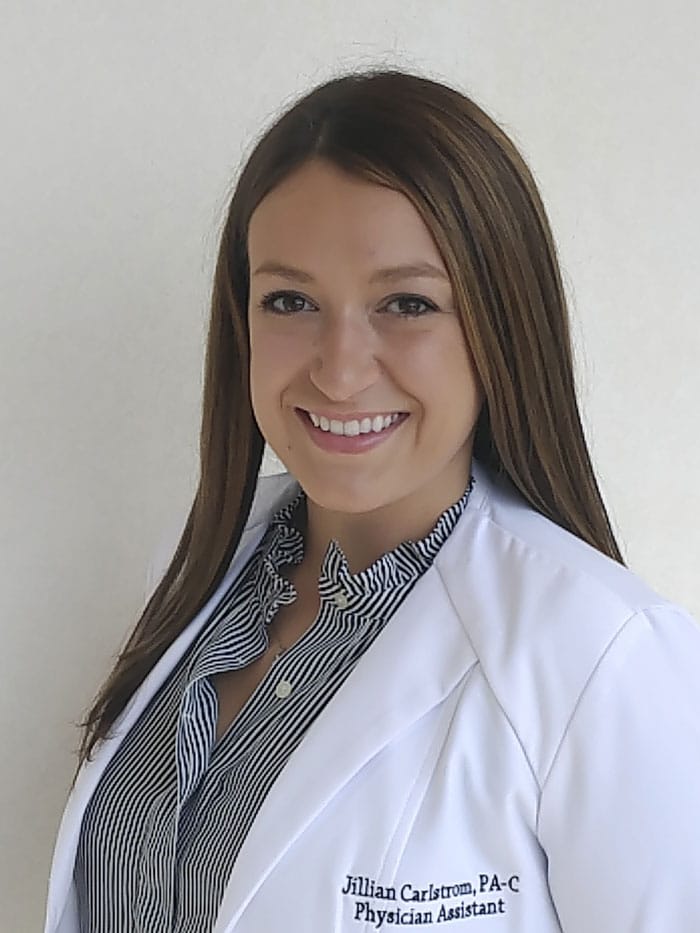 Jillian A. Carlstrom
Location:
Jillian A. Carlstrom is a licensed physician assistant, certified by the National Commission on Certification of Physician Assistants (NCCPA).
Prior to joining the Middletown Medical team, Ms. Carlstrom worked in the orthopedic surgery department at Crystal Run Healthcare in Middletown, N.Y. and also served patients as a patient care advocate at Bassett Medical Center in Cooperstown, N.Y.
While pursuing her certification as a physician assistant, Ms. Carlstrom gained a wealth of healthcare knowledge through her graduate clinical experience. During that time, she worked with healthcare professionals at Sharp Grossmont Hospital and Care Clinic in San Diego, Calif., the Medical Center at Gwynedd in Lower Gwynedd, Pa., the Christiana Care Health System in Newark, Del., the Pediatric Practice of Northeastern Pennsylvania in Honesdale, Pa., the Cancer Support Community Delaware in Wilmington, Del., th eCape Regional Health System in Cape May, N.J., the Nemours Alfred I. duPont Hospital for Children in Wilmington, Del., and the Northern Navajo Medical Center in Shiprock, N.M.
Her diverse fields of study included emergency care, urgent care, internal medicine, pediatrics, behavioral health, obstetrics/gynecology, family medicine, rheumatology, and general surgery.
Ms. Carlstrom earned her Bachelor of Arts in Biology from Hartwick College in Oneonta, N.Y. and her Master of Science in Physician Assistant Studies at Arcadia University in Glenside, Pa.
Ms. Carlstrom holds certifications in Basic Life Support (BLS) and Advanced Cardiac Life Support (ACLS). She is also certified by New York State as an emergency services technician (EMT) and nurse's aid.