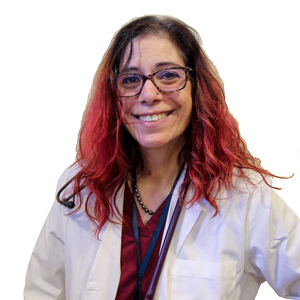 Dresden Debra , FNP
Locations:

60 Dunning Rd
Montgomery Office
Warwick Medical Branch
Debra Lynn Dresden is a family nurse practitioner, Board-certified by the American Nurse Credentialing Center (ANCC). She is a specialist in Endocrinology, and holds over 26 years' of clinical experience in endocrinology, community health, primary care, internal medicine, and diabetes education.



In addition to being a family nurse practitioner, Ms. Dresden is also a Certified Diabetes Clinical and Education Specialist.



Ms. Dresden's endocrinology focuses and clinical expertise include obesity management, diabetes management, chronic disease care, PCOS, nutrition management, thyroid disorders, parathyroid disorders, adrenal disorders, pituitary disorders, osteoporosis, and many other various endocrine disorders.



She also holds special interest in insulin pumps and continuous glucose monitoring systems (CGMS).



Prior to her current role, Ms. Dresden served patients at United Medical/St. Barnabas Health System in Clifton and Bayonne, N.J.; Essen Health Care Associates in the Bronx, N.Y.; Horizon Medical Group, Inc. in New Windsor and Monroe, N.Y.; Open Door Family Medical Center, Inc. in Ossining, N.Y.; Cornell Scott Hill Health Corporation in New Haven, Conn.; Community Health Center, Inc. in Danbury, Conn.; various Minute Clinic locations in Connecticut; Pri-Med in Trumbull, Conn.; Bridgeport Hospital in Bridgeport, Conn.; and High Ridge Family Practice in Stamford, Conn.



She has also served as a nurse practitioner preceptor at Rutgers University, Sacred Heart University, and Mount St. Mary's College.



Ms. Dresden earned both her Master of Science in Nursing/Family Nurse Practitioner and Bachelor of Science in Nursing from Pace University in Pleasantville, N.Y. She also holds a Bachelor of Arts in Sociology from Tulane University in New Orleans, La.



Ms. Dresden's professional associations include the American Diabetes Association, the American Academy of Nurse Practitioners, and the Association of Diabetes Care and Education Specialists.



Ms. Dresden focuses on a holistic clinical perspective, and is familiar with the importance of tailoring care plans to meet individual needs, including varying considerations for differing ethnicities and cultures.



She holds a personal passion and drive to serve those with diabetes following her experience watching a best friend suffer from type 1 diabetes throughout her teenage years. Ms. Dresden is determined to help patients live a full, healthy life and bases her clinical work around the belief of: "Become a diabetes warrior, not a victim." She is also a type 2 diabetic herself.