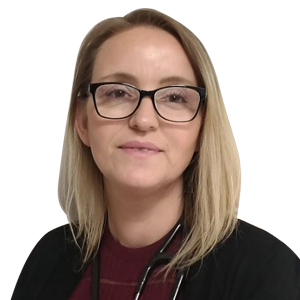 Sandra Binkowski , M.S.N., F.N.P-B.C.
Locations:

111 Maltese Drive - Medical Campus
ORMC Hospital
Sandra Binkowski is a family nurse practitioner providing care at Middletown Medical. She is board-certified by the American Nurses Credentialing Center (ANCC).

Ms. Binkowski's clinical experience has included cardiology, surgery, intensive care, progressive care, telemetry, oncology, pulmonology, primary care, pediatrics, and sleep medicine.

Prior to her current role, Ms. Binkowski served as a staff nurse at Orange Regional Medical Center (ORMC) in Middletown, N.Y. During her 14-year tenure with ORMC, Ms. Binkowski provided care for patients in the critical care department. She was the recipient of numerous care awards during her service at ORMC, including a three-time winner of the Shining Star award, as well as a Daisy award recipient in both 2014 and 2015. These awards are given to nurses who demonstrate excellence through their clinical expertise and extraordinary compassionate care. Ms. Binkowski has also served as an educator in the medical field, and dedicated time as an adjunct clinical instructor at Mount Saint Mary College in Newburgh, N.Y.

Ms. Binkowski earned her Master of Science in Nursing in the Family Nurse Practitioner Program at Dominican College in Orangeburg, N.Y. She holds a Bachelor of Science in Nursing from the State University of New York at Delhi in Delhi, N.Y. and an Associate in Applied Science from Orange County Community College in Middletown, N.Y.

Ms. Binkowski is certified in basic life support (BLS), pediatric advanced life support (PALS), advanced cardiac life support (ACLS), and critical care nursing (CCRN). She is a member of the American Association of Critical Care Nurses, Nurse Practitioner Association of New York State, and the American Association of Nurse Practitioners.

Ms. Binkowski is fluent in Dutch and speaks conversational German.