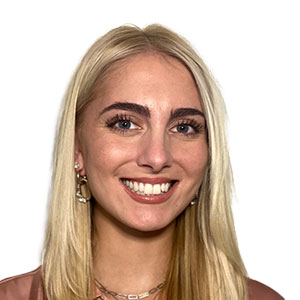 Emma Bodeker , FNP
Locations:

75 Maltese Drive - Middletown
Emma Bodeker is a licensed Family Nurse Practitioner providing compassionate and comprehensive care to patients at Middletown Medical, PC.

Ms. Bodeker holds nearly 6 years of experience in the professional medical field. Prior to her current role as a Nurse Practitioner, she served as an inpatient registered nurse (RN) on a neurological and neurosurgical floor at UHS Wilson Medical Center in Johnson City, N.Y. She continued working as an RN in the hospital throughout the COVID-19 pandemic. She also served as an RN at several New York State Department of Health COVID-19 Testing Sites during the COVID-19 pandemic. Additionally, she holds nearly 8 years of experience in the fitness industry as a N.A.S.M. Certified Personal Trainer.

During her Advanced Practitioner training through Binghamton University, she served patients in remote outpatient settings, including Bassett Health Center Sidney in Sidney, N.Y., and UHS Urogynecology - Apalachin in Vestal, N.Y.

Ms. Bodeker earned a Master of Science in Family Nursing from Binghamton University in Binghamton, N.Y. Additionally, she obtained a Bachelor of Science in Nursing from Binghamton University and a Bachelor of Science in Health Sciences with a concentration in Emergency and Critical Care from Stony Brook University in Stony Brook, N.Y.

She holds a Family Nurse Practitioner license in New York and Registered Nurse license in both New York and New Jersey. Ms. Bodeker is a member of the American Academy of Nurse Practitioners and the Nurse Practitioner Association. Ms. Bodeker is certified in Corporate Compliance, Client Rights, & Confidentiality; the Health Insurance Portability and Accountability Act of 1996 (HIPAA); and Infection Prevention & Control for Clinical Staff.

Ms. Bodeker practices at Middletown Medical's 75 Maltese Drive location in Middletown, N.Y., in the Department of Neurology. Ms. Bodeker specializes in both adult and pediatric conditions, including Headache, Childhood ADHD, Dementia/Memory loss, Tremors, Tics, Neck/Back pain, Carpal tunnel, Neuropathy, Vertigo, Concussion, Syncope, Bells Palsy, Anxiety/Depression, Treatments, including nerve blocks and Botox injections for the treatment of migraines.

She is currently accepting new patients, including adults and children over the age of 5 years old.