As part of our response to the Covid-19 pandemic, we will be shifting staff around to meet the needs of our patients; this will result in a temporary change of hours at many of our locations. In the event, you are seeking medical care at a location, and it is closed, please call (845) 342-4774 because other offices close to you may be open or a telemedicine visit may be available to you from your car.
Effective Monday, March 30th, we will be changing the hours to:
Monticello
Monday -Friday 8-6
Saturday 9-1
Chester
Monday -Friday 8-6
Saturday 9-1
Sunday 9-1
111 Maltese Drive
Middletown, NY, 10940
URGENT CARE IS NOW ON THE 1st FLOOR
Don't want to wait when you arrive?
You can reserve your spot for our Middletown Urgent Care by filling out a short form.
Services Offered
Reserve Your Spot
Worry-Free Price
Employment Testing
78 Brookside Ave #143
Chester, NY 10918
Mon – Fri: 8:00am – 8:00pm
Weekends: 9:00am – 1:00pm
Call Ahead
You can reserve your spot by calling ahead. Learn more about our "Reserve Your Spot!" service.
Services Offered
Urgent Care
Worry-Free Pricing
Reserve Your Spot
Walk-in X-Ray
Employment Testing
112 Shoprite Blvd,
Ellenville, NY 12428
Mon – Fri: 8:00am – 6:00pm
Saturday: 9:00am – 1:00pm
Services Offered
Urgent Care
Worry-Free Pricing
4058 State Route 42, Suite 5
(Thompson Square Mall)
Monticello, NY 12701
Mon - Fri: 8:00am - 8:00pm
Saturdays: 9:00am - 1:00pm
Services Offered
Urgent Care
Worry-Free Pricing
Walk-in X-Ray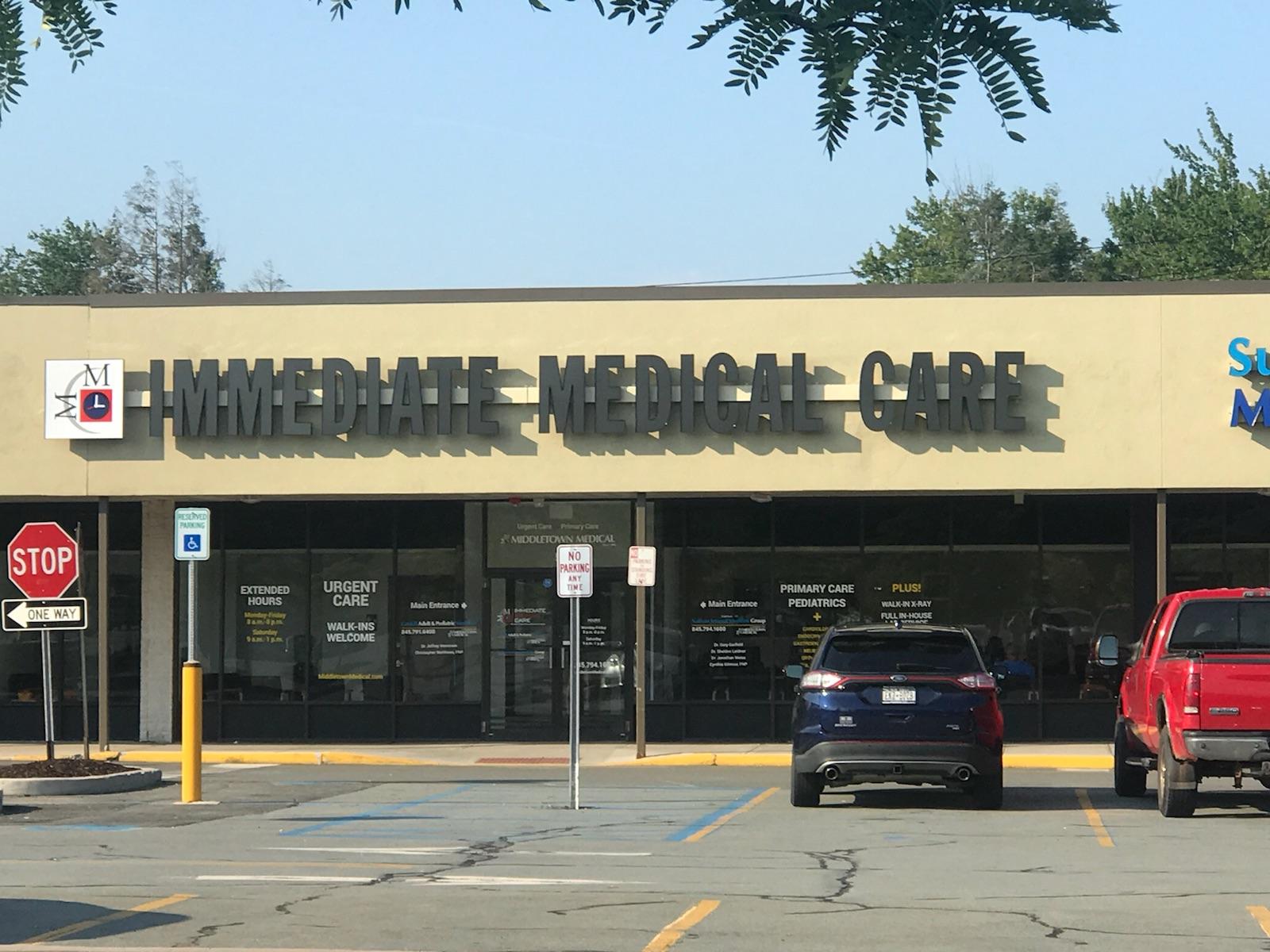 When to use Urgent Care
Middletown Medical Urgent Care treats illnesses and injuries that require immediate, but not emergency care. Our medical staff can often fill a need that may exist between primary care physicians and hospital emergency rooms during times when a doctor's appointment is not readily available.
When deciding between urgent care clinics and emergency rooms the question to answer is:  "Are these life-threatening injuries or symptoms?".  If the answer is "Yes", then the choice is simple: Go to an emergency room.
If the injuries and symptoms are non-life threatening, then an urgent care center should do.
Urgent Care Centers are NOT the correct choice for patients with shortness of breath, chest pain or a severe allergic reaction. Those patients should go directly to the Emergency Department. The wait time in a hospital emergency room can often be extremely long and you may often wait hours to receive treatment and care. The hospital emergency room does not necessarily treat the first patient in line. Care is typically based on the severity and nature of any given injury, which can be frustrating if you have a non-emergency illness or injury.
Reasons to go to the Emergency Department:
Severe chest pain
Severe abdominal pain
Paralysis
Intestinal bleeding
Vaginal bleeding with pregnancy
Repeated vomiting
Poisoning
Severe head or eye injuries
Unconsciousness