OVERVIEW
Our state of the art Radiology Department offers a wide array of services, all proudly accredited by the American College of Radiology. In addition, all Radiology Technologists are licensed and certified by the American Registry of Radiologic Technologists. Your exam will be interpreted by our Board-certified radiologists and reported to your physician in a timely manner.
Schedule an appointment by phone or chat:
Middletown Medical's Philips Brilliance 16-Slice CT scanner is the industry standard for CT scanning. This incredible machine opens new doors for assessing some of today's most pressing health care conditions such as stroke, heart disease and lung cancer. The Brilliance 16-Slice gives sixteen crystal clear images per rotation, while older machines took only one image. This means that you receive a much more accurate diagnosis than ever before possible. The Philips Brilliance 16-Slice scanner is the region's most advanced scanner. It is fast, accurate and able to perform more studies with incredible clarity. Additionally, our department is ACR certified and our technologists are highly trained, caring and ready to help you.
At Middletown Medical, our professional and caring staff will guide you through this painless, non-invasive, simple screening test in about 20 minutes. This test will provide invaluable information for your physician about your chance for getting osteoporosis, a preventable disease when detected early.
Our recenty purchased Hologic Selenia Full Field Digital Mammography (FFDM) system is a state-of-the-art digital mammography machine that is highly accurate and provides greater patient comfort. Digital mammography is the industry standard for providing the most accurate images with a reduced number of retakes needed in order to obtain an accurate image.
The new Philips 1.5 Tesla short bore MRI gives you the feeling of an open MRI. And with Philips' new technology, scan times are cut in half without ever compromising quality or comfort. This state-of-the-art scanner combines the strongest magnetic field strength and shortest scanning tube available to minimize study times and maximize quality while providing you with a comfortable and roomy feeling. In addition, Middletown Medical uses CinemaVision, a convenient, versatile and user-friendly 3D virtual reality system. Providing multiple entertainment options – from standard television, DVD, CD and AM/FM input – this system allows you to enjoy a stunning sight and sound experience during your MRI scan.
The The Affiniti
50
ultrasound system, powered by Philips digital imaging ultrasound system delivers high definition imaging in a compact and ergonomic package designed for a variety of tests including breast, pediatric, vascular and musculoskeletal ultrasounds. It is a state-of-the-art system that provides the best images in the least amount of time to assist your physician in providing you the best care possible. The testing performed is painless and non-invasive while not exposing you to any radiation. Our Ultrasound and Echocardiography Departments are ACR and ICAEL accredited and utilize the latest equipment in a warm, welcoming environment. Our licensed ultrasound technologists perform most on-site specialized testing within 30 minutes. Your results are reported to your physician as quickly as possible.
DO I HAVE TO REMAIN STILL THE WHOLE TIME?
It is important for image clarity and optimum scan results to hold still during the exam. Keep in mind a routine exam will take at least 20 minutes.
MRI isn't for everyone. Be sure to inform your physician if you have a pacemaker, aneurysm clips in the brain, a shunt with telesensor, inner ear implants, medication patches, metal fragments in one or both eyes, implanted spinal cord stimulators or if you are pregnant, breasfeeding, or have anemia or any disease affecting red blood cells.
DOES THE MACHINE MAKE A LOT OF NOISE?
Yes, there is significant noise made by the magnet. Our exclusive CinemaVision program blocks out the noise with either music, TV programs or movies.
IS AN MRI SCAN LIKE AN X-RAY?
No.  An MRI scan uses a powerful magnet in conjunction with radio frequency waves to generate images of your internal organs and structures without radiation.
HOW LONG WILL THE EXAM TAKE?
That will depend on what is being studied but a typical exam lasts 20 – 45 minutes. You should allow extra time in case the exam lasts longer than expected.
LOCATIONS & HOURS— radiology
MIDDLETOWN
111 Maltese Drive, Middletown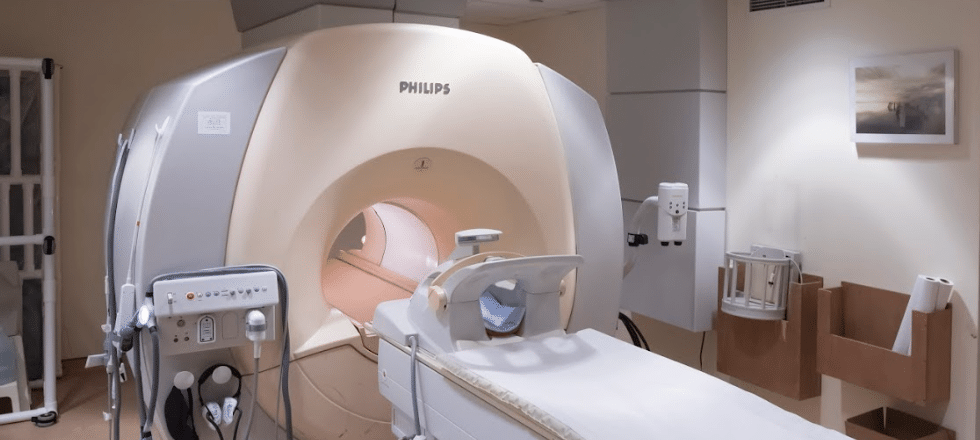 Xray
All Week: 7:00am - 9:00pm
MRI
Monday – Friday: 7:00am – 9:00pm
Weekends: 7:00am – 3:00pm
Ultrasound
(Echocardiogram/Vascular)
Monday – Friday: 7:00am – 7:00pm
Saturday: 8:00am – 4:00pm
Sunday: Closed
CAT Scan
Monday - Saturday: 7:00am - 9:00pm
Sunday: 8:00am - 9:00pm
Ultrasound
(General)
Monday – Friday: 8:00am – 6:00pm
Saturday: 8:00am – 2:00pm
Sunday: Closed
Mammography
Please call for an appointment – 845 853 5335
CHESTER
78 Brookside Avenue, Shoprite Plaza, Chester
Xray
Walk-ins welcome!
Monday – Friday: 8:00am – 8:00pm
Saturday: 9:00am – 1:00pm
Ultrasound
General / Vascular
Tuesday: 8:00am - 5:00pm
ELLENVILLE
112 Shoprite Plaza, Ellenville
Ultrasound
General / Vascular / Echo
Thursday: 9:00am – 5:00pm
MONTICELLO
4058 State Route 42, Suite 5
(Thompson Square Mall)
Monticello, NY 12701
Xray
Walk-ins Welcomed!
Monday – Friday: 8:00am – 8:00pm
Saturday: 9:00am – 1:00pm
Ultrasound
Echo / Vascular
Monday, Thursday: 8:30am - 6:00pm
General / Vascular
Thursday: 9:00am - 6:00pm
MRI
Tuesday: 8:30am - 5:00pm
LIBERTY
111 Sullivan Avenue, Ferndale
Ultrasound
Echo / Vascular
Monday: 9:00am – 5:00pm
General
Friday: 9:00am – 5:00pm