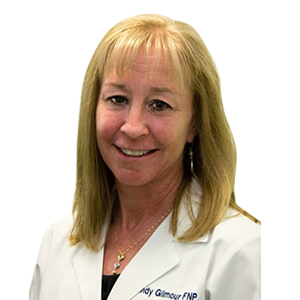 Cynthia Gilmour , FNP
Locations:

Monticello Center - Sullivan Internal Medicine Group
Cynthia Gilmour is a Family Nurse Practitioner with close to 20 years of dedicated experience, specializing in Internal Medicine and Women's Health. She's been with Sullivan Internal Medicine Group since 2006, and was previously with Catskill Regional Medical Center in Catskill for close to a decade.

A graduate of College of New Rochelle in New Rochelle, N.Y., where he earned a B.S. in Nursing, Mrs. Gilmour went on to earn an M.S. in Health Services Administration from New School for Social Research in New York, as well as an additional M.S. as a Family Nurse Practitioner from SUNY Binghamton. A Legal Nurse Consultant Certificate was also earned from Pace University in Briarcliff, N.Y.

Mrs. Gilmour has also been with The Recovery Center in Monticello, N.Y., as well as Horizon Medical in Florida, N.Y.
Specialties
Education
Bachelor of Science in Nursing
College of New Rochelle
Maters of Science in Health Services Administration
New School for Social Research in New York
Master of Science as a Family Nurse Practitioner
SUNY Binghamton
Certifications
Legal Nurse Consultant Certificate | Pace University