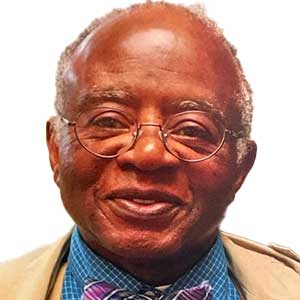 Goddard S. Lainjo , MD, FACR
Locations:

419 E Main St - Middletown
Goddard S. Lainjo, MD is a dedicated and patient-focused physician providing care within Middletown Medical PC's Rheumatology Division. He is board-certified in both Internal Medicine and Rheumatology, and a Fellow of the American College of Rheumatology.

Dr. Lainjo was in private practice in Middletown, NY for over thirty years. He was also an Attending in Medicine at Garnet Health Medical Center (formerly Orange Regional Medical Center). In the past, he has served as Consultant in Rheumatology for St. Anthony's Community Hospital, Warwick, NY and Buffalo General Hospital, Buffalo, NY.

Dr. Lainjo earned his Bachelor's degree from Long Island University - C.W. Post College in Greenvale, NY, graduating Magna Cum Laude. His medical degree is from the Albert Einstein College of Medicine (Yeshiva University) in the Bronx, NY. His Internal Medicine internship and residency were done at NYU/ Booth Memorial Hospital in Flushing, Queens, NY, and he completed his fellowship in Rheumatology at the State University of New York at Buffalo, in Buffalo, NY.

Dr. Lainjo is a member of the Medical Society of Orange County, the Medical Society of the State of NY, the American Medical Association, and the American College of Physicians.

Dr. Lainjo is currently accepting new patients.