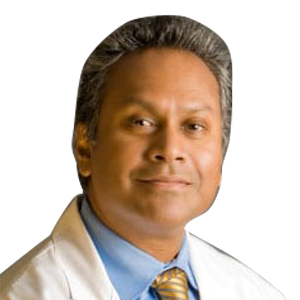 Bonnie Seecharran , MD
Locations:

2 Edgewater Drive - Middletown
Cardiologist Dr. Seecharran received his medical degree from the United Medical and Dental Schools of Guy's and St.Thomas's Hospitals in London, England. Following graduation, he remained in England to complete his internship and residency in Internal Medicine. Dr.Seecharran's post-graduate training continued at the University of Connecticut School of Medicine, where he served as Resident of Internal Medicine before his appointment as Fellow in Cardiology.

A contributor to several medical journal publications, he specializes in nuclear cardiology, transesophageal echocardiography, exercise stress testing, diagnostic cardiac catheterizations and many other procedural skills. With his practice of invasive non-interventional cardiology, Dr.Seecharran brings excellence to Middletown Medical, P.C.

He is the Director of the Cardiac Rehabilitation Program at Orange Regional Medical Center and an active Board member for the American Heart Association. His expertise and patient care are of the highest caliber.
Outside work, Dr.Seecharran pursues his interests in classical literature, art and tennis.
Specialties
Education
Medical Degree
United Medical and Dental Schools of Guy's and St. Thomas's Hospitalsin London
Memeberships
Director |Cardiac Rehabilitation Program at Orange Regional Medical Center, Board Member | American Heart Association
Certifications
Cardiology and Cardiovascular Disease
Echocardiography
Nuclear Cardiology
Hobbies
Classical Literature
Art
Tennis